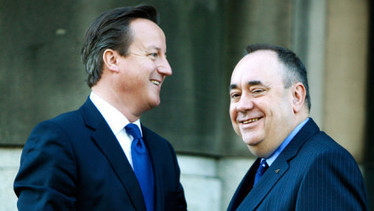 If Labour is elected in May, we'll abolish the bedroom tax. You can't have a clearer pledge than that. But this weekend we've seen that, for the SNP, the
Peter A Bell's insight:
Are we looking at the prospect of a Tory/Labour coalition?
There is no remotely plausible scenario in which the SNP would either ask its MP to give effective support to the bedroom tax or make any kind of pact with the Tories at Westminster.
Margaret Curran either doesn't know this – in which case she is pathologically stupid, or she is perfectly well aware – in which case she is pathologically dishonest. Either way, she is not fit for her current role posing as an elected representative of the people of Scotland.
Thankfully, the people of Glasgow East will have an opportunity to rectify this unacceptable situation next May.
The SNP has unequivocally ruled out any deal with the Tories after the 2015 Westminster elections. Interestingly, British Labour has not. They have undertaken to be at least as mindlessly devoted to the cult of austerity as the Tories. And they have already formed a close alliance with the Tories in the referendum campaign.
The people of the rest of the UK simply cannot take it for granted that the two main political parties serving the British establishment will not make common cause in the name of preserving the structures of power and privilege which define the British state in the same way that they have in Scotland.
The question is, will any assurances to the contrary be convincing? Obviously not if they come from Margaret Curran.